TGMC 2012 Felicitation Ceremony
JIMS team "INFINITE" of MCA students awarded at TGMC 2012 Felicitation Ceremony
TGMC 2012 Felicitation Ceremony was held at IBM India Pvt. Ltd. Embassy Golf Link Parks, Indira Nagar Inner Ring Road, Bangalore on 08th November, 2013. Ceremony was eminent dignitaries from IBM and Top 15 teams of TGMC 2012 competition. This provided a good interactive platform for all and an opportunity to see and meet the great minds.
The session was started with the welcome address by Ms. Malathi Srinivasan, Country Manager, IBM Academic Initiative. She discussed about the benefits of TGMC for the students. It was followed by Mr. Dollas Krishnan who discussed about the IBM Eco system development. Ms. Vani Singh, India Lab Leader, IBM Watson Solutions Development & Service, shared the various innovative projects undertaken by IBM. Mr. A. Muruganantham, an Entrepreneur and guest speaker of the day addressed the audience with his motivational words.
Top 30 colleges and top 15 teams of TGMC 2012 were awarded by Ms.Malathi, Ms. Vani and Mr. Karthik Padmanabhan. Team from Bapuji College of Engineering, Karnataka bagged the first prize of TGMC 2012.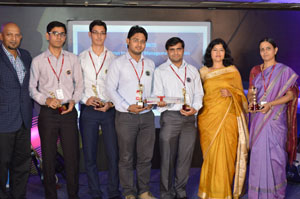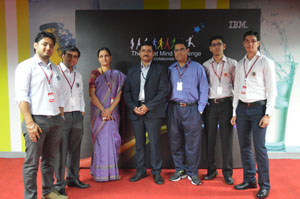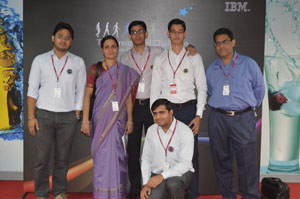 Team 'infinite' (selected among top 15 teams of TGMC 2012) from Jagan Institute of Management Studies, Sector-5 Rohini, New Delhi, also attended the ceremony with their faculty mentor Ms C. Komalavalli to collect their award of achievement. 'Infinite' comprised of Mr. Pulkit Pushkarna, Mr. Lalit Joshi, Mr. Jitender Kumar and Mr. Abhinav Shrivastava (all of MCA 2011-14) bagged special attention with their entry of e-Tender developed using advanced Java. 'Infinite' gained special notice as it is the only team of MCA students selected in final 15, out of more than 7000 B. Tech. and MCA students of over 2000 colleges across India.
Mr. Karthik Padmanabhan, Business Unit Executive, ISV and Developer Relations, South Asia. proposed vote of thanks and briefly discussed about TGMC 2013 mobility contest.